The "GO-TO" class for junior sailors worldwide.
Ages 5-13 (up to 120lbs)
Week-long full-day sailing camps for beginners and intermediate sailors.  Multi-week Race camps are offered for advanced sailors.
Lil' Luffers
This three-day course is the perfect way for your little one to get their first taste of sailing.  Students will meet on Tuesday-Thursday from 6 pm to 8 pm. Parents are asked to stick around and experience this course with their little ones. During this course, you and your child will learn how to rig an OPTI, steer the boat around the bay, and take a cruise down the river on the last day of class in a 22' Keelboat. 
This course is for ages 5-7.
Prerequisite: None! 
View Times/Register for 2020
Sailing Discovery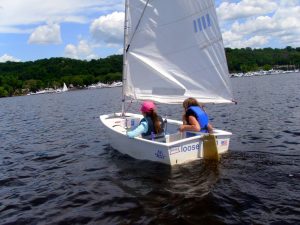 Sailing Discovery is a course geared towards sailors who are not yet ready to jump into a full week program but would like to give sailing a try. During the three-day program, Certified US Sailing instructors introduce basic sailing principles. Splitting their time between land discussions and on the water practice, sailors gain knowledge in setting up a sailboat, sailing terminology, and the ability to sail across the wind. After completion of this course, sailors who want to continue building their sailing skills are encouraged to sign up for an Opti or C420 Explorer course.
This course is for ages 8-12.  For ages 12-17, see the Club 420 Sailing Discovery course.
Prerequisite: None! 
View Times/Register for 2020
Opti Explorer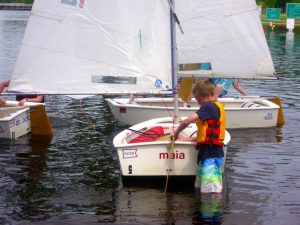 This is the place to start your child's love of sailing. Sailed around the world, the Opti is the go-to class for junior sailors. Meet every day Monday-Thursday from 9:00-3:30. Sailors will learn on-the-water safety, rigging, steering, knots, and more! The end of the week goal is for your student to have a basic understanding of the mechanics of driving and sailing a boat. Each four-day session is designed to get your child comfortable and confident in an Opti.  This course can be taken multiple times.  Each week your sailor builds upon the fundamentals of sailing. 
Ages 7 – 13
Prerequisite: None!
View Times/Register for 2020
Opti Racer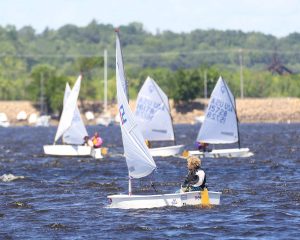 The Racing Optimist class is an exciting opportunity to fully experience the challenge of sailing at a higher level. Designed for students who have taken one, two, or even three weeks of the OPTI Explorer course. The OPTI racers will learn racing concepts including starts, upwind and downwind sailing, as well as boat trim for speed, racing rules, strategy, tactics, and more. US Sailing Certified instructors lead students in drills, practice races, and adventure downriver. The class meets from 9:00-3:30pm for two weeks Monday – Friday.
On select Fridays, the Opti Racers are encouraged to compete in local TCYS regattas. These regattas are held around the metro area. There is a $20 registration fee for each regatta.
Prerequisite: 1-2 weeks of OPTI Explorer
View Times/Register for 2020
| | | | | |
| --- | --- | --- | --- | --- |
| 2020 Dates | Time | Price | Status | Registration |
| July 13 – July 24 (Monday-Friday) | 9:00 am – 3:30 pm | $475 | Sold Out | Click here to register |