Here are a few ways we can use your help:
Donate
We are a volunteer-run 501(c)3 non-profit corporation.  From our beginning we have relied on donations to fund all boat and capital equipment purchases.  We do this to keep class fees as low as possible.  We also provide scholarships, funded in part by the Eau Claire Community Foundation, to any family that needs financial assistance.  With your help we will continue to provide affordable opportunity and access to our area's youth.
GuideStar
Click here to find out more about Saint Croix Sailing School as provided by GuideStar. Donations are greatly appreciated through this organization.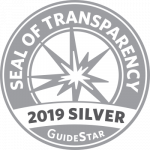 Paypal
Click here to donate on line via Paypal
Check
Checks can be sent to:
Saint Croix Sailing School, Inc.
PO Box 732
Hudson, WI 54016
DAF Direct
If you wish to donate through a charitable donor directed/advised fund, you may be able to use DAF Direct. DAF Direct currently facilitates grant recommendations from donors of Fidelity Charitable®, Schwab Charitable®, and some Community Foundations. More national and community foundation donor-advised fund sponsoring organizations may be added in the future.