Challenge and fun as sailors and skills grow.
Ages 12-17
Week long sailing courses for beginners and intermediate sailors.  Multi-week Race camps are offered for advanced sailors.
Club 420 Sailing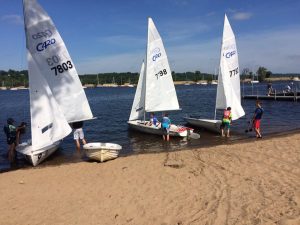 For older sailors who may have already sailed in Optis or are just too big for Optis. In this one week session students will learn about on the water safety, tacking, gybing, sail trim, and boat handling. No experience required to take part in the Club 420 sailing. The only requirement is the student must be 100+lbs. This is because there is more weight required to counteract the power of the larger sails.
View Times/Register for 2020
* = Temporary year-end discounted pricing

Intermediate Club 420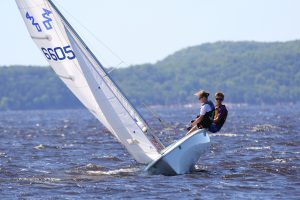 This intermediate Club 420 class is for those students that have have taken a week or two of Club 420 Sailing class or have shown advanced sailing ability. In this intermediate class we will continue to work on safety and boat handling skills. Focusing on different points of sail we will learn everything that goes into sailing upwind, downwind, and across the wind. Roll tacking and roll gybing will be taught in this class. The intermediate sailors will also be introduced to the spinnaker and trapeze on the Club 420. Experience is required for this class.
View Times/Register for 2020
| | | | | |
| --- | --- | --- | --- | --- |
| 2020 Dates | Time | Price | Status | Registration |
| June 13 – 17 | 9:00 am – 3:30 pm | $330* | Upcoming | Click here to register |
* = Temporary year-end discounted pricing

Club 420 Race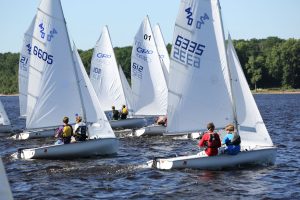 The Racing 420 class is an exciting opportunity to fully experience the fun and challenge of sailing at a higher level. Designed for students who have taken one or two weeks of an intermediate 420 course or demonstrated an ability to handle the boat as a skipper or crew. Students will develop racing concepts including starts, upwind and downwind sailing, as well as boat trim for speed, racing rules, strategy, tactics, and more. There are two four week 420 Racing sessions during the season. The class meets in the Afternoon from 12:30pm-3:30pm. On some Fridays, the students will be encouraged to compete in the local TCYS regattas. These regattas are held around the metro area. The course fee does not include regattas fees.
View Times/Register for 2020
| | | | | |
| --- | --- | --- | --- | --- |
| 2020 Dates | Time | Price | Status | Registration |
| July 27 – Aug 21 (M-F) | 12:30 pm – 3:30 pm | $460* | Upcoming | Click here to register |
* = Temporary year-end discounted pricing