Challenge and fun as sailors and skills grow.
Ages 13-17
Week long sailing courses for beginners and intermediate sailors.  Multi-week Race camps are offered for advanced sailors.
Sailing Discovery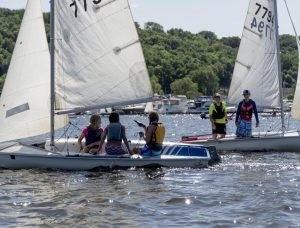 Sailing Discovery is a course geared towards sailors who are not yet ready to jump into a full week program but would like to give sailing a try. During the three-day program, Certified US Sailing instructors introduce basic sailing principles. Splitting their time between land discussions and on the water practice, sailors gain knowledge in setting up a sailboat, sailing terminology, and the ability to sail across the wind. After completion of this course, sailors who want to continue building their sailing skills are encouraged to sign up for an Opti or C420 Explorer course.
This course is for ages 12-17.  For ages 8-12, see the Opti Sailing Discovery course.
Prerequisite: None! 
View Times/Register for 2020
Club 420 Explorer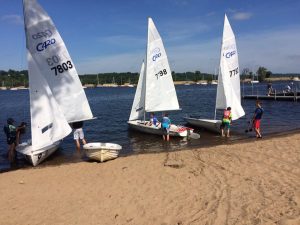 For sailors 13+ who may have aged out of Opti Explorer or Racer. This is also a great place to start if you are new to sailing and over the age of 13. In this four-day session, students will learn on-the-water safety, tacking, gybing, sail trim, and boat handling. No experience is required to enroll in the C420 Explorer class.
Ages 13 – 17
Prerequisite: None! 
View Times/Register for 2020
Club 420 Adventurer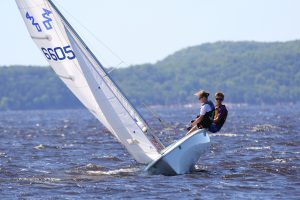 Club 420 Adventurers are students who have taken a week or two of the C420 explorer and have shown advanced sailing ability. The C420 Adventurer is for students who are not interested in racing but would like to continue working on more advanced skills and techniques. Sailors will continue to work on points of sail and boat control. There will also be more advanced topics introduced like spinnaker sailing, reading the wind/weather, and other more advanced boat handling techniques.
Ages: 13 – 17
Prerequisite: 1-2 weeks of Club 420 Explorer
View Times/Register for 2020
| | | | | |
| --- | --- | --- | --- | --- |
| 2020 Dates | Time | Price | Status | Registration |
| August 10 – August 13 (M-Thu) | 9:00 am – 3:30 pm | $345 | Upcoming | Click here to register |
Club 420 Racer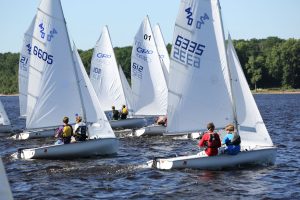 The Club 420 Racer class is an exciting opportunity to fully experience the fun and challenge of sailing at a higher level. Designed for students who have shown their ability to sail at a high level in the Club 420 Explorer course.  Students will develop racing concepts including starts, upwind and downwind sailing, as well as boat trim for speed, racing rules, strategy, tactics, and more.  The class meets in from 9:00 am – 3:30 pm for two weeks. On select Fridays the students will be encouraged to compete in the local TCYS regattas. These regattas are held around the metro area. The course fee does not include the $20 regatta registration fees.
Ages: 13-17
Prerequisite: 1-2 weeks of Club 420 Explorer (and instructor approval).
View Times/Register for 2020
| | | | | |
| --- | --- | --- | --- | --- |
| 2020 Dates | Time | Price | Status | Registration |
| July 27 – August 6th (Monday-Friday) | 9:00 am – 3:30 pm | $475 | Upcoming | Click here to register |