Taking sailing to another level!
Ages 11-17
Race instruction in a J/22 keelboat for advanced sailors.  Work as a team to compete with experienced sailors in the local sailing club!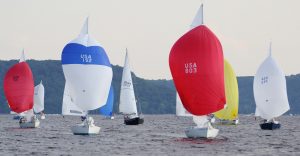 The Big Boat Race sessions are a chance for your child to get out on the river and race against other keel boats on J/22 sailboats. In partnership with the St. Croix Sailing Club, students will compete with an instructor in five Tuesday night races during the Summer and Fall. Students will learn all the skills that go into a sailboat race. Each Tuesday of the session there will be a onshore lesson covering starts, tactics, strategy, and more. On the water each student will get a chance to skipper the boat, raise the spinnaker, trim the sails, and so much more. This class is for sailors with at least two years of sailing experience through SCSS.
Note:
  Additional practice dates may be added.  All times are approximate – your instructor will contact you to confirm the schedule.