Give the gift of sailing!
Holidays, Birthdays, Graduations, Anniversaries, or Just Because…
Sailing is a great gift!
With your Gift Certificate order, we will mail or email (at your discretion) a certificate to the person of your choice.
The certificate includes a code which may be applied to any of our sessions.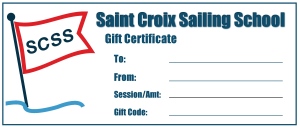 Gift certificates may be purchased online with your credit card (via PayPal).
Policies:
Gift Certificates do not expire.
Gift Certificates are refundable, with the exception that after being applied to a registration, our standard refund policies apply.
Gift Certificates are valid for face value of the certificate only.  Note that our session offerings change from year to year, as do our prices.
Gift Certificates are transferable and are not session-specific.  A student receiving a certificate may register for any session he/she desires.
See the FAQ page for other policies.