FAQ's
Location
Our facility is located on the waterfront in downtown Hudson on the Northeast corner of First and Buckeye.  There's plenty of free parking in the area or drop offs can be easily made right at our gate.
The Lower St. Croix National Scenic Riverway includes the lower 52 miles of the St. Croix River between Taylors Falls, MN/St. Croix Falls, WI and the confluence with the Mississippi River at Point Douglas, MN/Prescott, WI. The lower St. Croix was the first river added to the National Wild & Scenic Rivers Program by Congress in 1972. Our home is within this magnificent stretch of river centered on the waterfront of Hudson, Wisconsin. Our young sailors enjoy sheltered water in Hudson Bay or more open water on Lake Saint Croix, which is directly adjacent to the south of Hudson Bay.

Click here for a map and more details about our location
Policies
Racial nondiscriminatory policy
The Saint Croix Sailing School Inc. admits students of any race, color, national origin and ethnic origin to all the rights, privileges, programs and activities generally accorded or made available to students at the school. It does not discriminate on the basis of race, color, national origin and ethnic origin in administration of its educational policies, admission policies, scholarship or other school-administered programs.
Our other policies
It is our policy that every student, as well as instructors, must wear PFDs at all times when on or near the water. No exceptions.
It is our policy that all students pass a swimming test on the first day of class. Students must be comfortable in the water and must be able to swim 50 feet with a life jacket on.
It is our policy that all instructors and coaches have Red Cross certification in CPR/first aid and have completed US Sailing instructor training.
It is our policy to expect students to follow certain rules that promote the safety of all. Parents will be notified of persistent problems with their child's behavior. Those students who continue to be disruptive may be asked to leave.
It is our policy that students are not considered registered until a completed registration form and full tuition fees have been received. Some scholarship funds are available based on need. If you wish to make payment arrangements, please contact the school. Space in classes is on a first-come basis.
It is our policy that if you need to withdraw from a class, a full refund will be made until two weeks before the start of the class; a 50% refund until one week before the class; no refund after that time. If you are able to find a replacement to enroll in the class, the school will make a full refund.
It is our policy to make every effort possible to sail whenever weather permits. If inclement weather is forecast, the class may be conducted on shore. Student safety will always be our highest priority.
Some of our sessions offer the choice between different types of boats.  When assessing the student, SCSS reserves the right to move kids to a different boat if we think that will provide better safety for the child, a better experience, and a better learning opportunity.

Gift Certificate Policies
2017 year end promotional prices are valid as discounts for sailing during the 2018 sailing season only. If used after that time, the balance of the certificate will be honored, but additional fees may be incurred.
Gift Certificates do not expire.
Gift Certificates are refundable, with the exception that after being applied to a registration, our standard refund policies apply.
Gift Certificates are valid for face value of the certificate only.  Note that our session offerings change from year to year, as do our prices.
Gift Certificates are transferable and are not session-specific.  A student receiving a certificate may register for any session he/she desires.
Scholarships
The Saint Croix Sailing School is firmly committed to providing access to all our programs for all kids regardless of their financial circumstances. The school does have a scholarship fund, supported in part by a generous donation from the Young Family Fund of the Eau Claire Community Foundation, which is available to any family in need of financial assistance. Scholarship grants can range from partial payment of class fees to full payment. If you would like to be considered for a scholarship grant please click on the link below to start the process.
Click here to place your Scholarship Grant Request
What To Bring
ABSOLUTELY, POSITIVELY every sailor needs a PFD
 — that's a "personal flotation device," or what we all grew up calling a "life jacket." The school has a very strict zero-tolerance policy requiring all students (and instructors) to wear a PFD at all times when on or near the water, regardless of swimming ability. There is no exception to this policy. Make sure your child's PFD fits well, is comfortable and is Coast Guard-approved. If you have any questions about fit, style or rating, ask your instructor on the first day of class.
Other highly recommended items:
Rubber-soled, non-skid CLOSED TOED shoes (to be worn at all times — they will get wet): tennis shoes, boat shoes and water shoes are all good choices.
Sandals and flip flops are not allowed.
Sunscreen (apply early and often, even on cloudy days)
Sunglasses are very helpful (especially polarized)
Hat
Water bottle (bring full)
A change of clothes
Towel
Sweatshirt for cooler days
Rain jacket for wet days
A bag lunch for full-day sailors
A bag to store everything
Croakies or a strap for your eyeglasses or sunglasses
Marking all your items with your name is a great idea. And remember, ALL ITEMS MAY GET WET!!!

Which boat is right for your sailor?
For our younger students
, the programs and classes of the Saint Croix Sailing School are built around three types of boats : Optimist Dinghy, Club 420, and Laser. Each of these boats are prized for their particular features relative to age, weight, and skill levels of young sailors.
Here's the summary on selecting the right boat:
Age 6/7 – 15; any experience level; less than 130 pounds: Optimist Dinghy

Age 12 – 18; any experience level; 120 pounds or more: Club 420
Age 12 – 18; intermediate to advanced level; 135 pounds or more: Laser
If you have any questions about which boat or session to sign your sailor up for, please use the Contact Us form, or give us a call at: 715.808.4114 (in-season only).
SCSS reserves the right to move kids to a different boat if we think that will provide better safety for the child, a better experience, and a better learning opportunity.

Our Boats - The Optimist Dinghy
The "Opti" was designed to teach sailing to kids and is popular throughout the world. The Optimist offers children a full range of sailing experiences from simply having fun and learning new skills to learning to race and participating in regattas. Because of its size and stability, it is an ideal boat for learning basic sailing skills while building confidence on the water. Once basic skills are mastered, young sailors can continue to refine their abilities all the way to a world championship. Twin Cities Youth Sailing offers local regatta opportunities most Fridays during the summer. The school will supervise and coach students who have the interest and proficiency to compete. School-owned Optis are provided to students enrolled in classes; this is generally the boat of choice for younger and lighter sailors (through approximately 120 pounds).

Our Boats - The Club 420
The Club 420 is used world-wide as a junior trainer and is the de facto double-handed race boat of choice for junior sailors through high school and college. The boat is always sailed with a main and jib but can also be rigged with spinnaker and trapeze. The boat is simple and stable enough for first-time sailors yet offers challenges that keep world-class sailors interested. Locally, Saint Croix Sailing School athletes who have reached the appropriate level of proficiency will be able to participate in Twin City Youth Sailing events held on Fridays on area waters, as well as in the ILYA Youth Championship and other national-profile regattas. School-owned 420s are provided to students enrolled in classes.

Our Boats - The J/22
People say the J/22 is the best sailing boat they have ever been on, including other J's. It's responsive, stable with its fixed lead keel and safe, as much fun to single-hand with main only as it is to plane under spinnaker in 18 knots of wind.  It is one of the most popular sailboats ever produced, with over 1,600 boats sailing in 65 fleets!  It is extremely active in sailing clubs on Lake St. Croix and throughout the Twin Cities metro area.

Other Boats - The Laser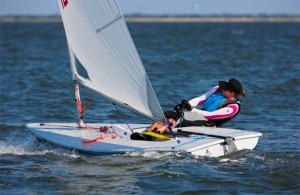 The Laser is the choice for the more advanced single-handed junior racer. Lasers are an Olympic-class boat and are raced throughout the world. The standard Laser hull can accommodate several optional rigs to match the weight and experience of the racer. The Saint Croix Sailing School offers Laser instruction and coaching to support young athletes at every level. Laser sailors have many local options for racing, including Twin City Youth Sailing events, club racing at many local yacht clubs and Laser District 21 events. The school offers storage space for Lasers, but Laser sailors must provide their own boats.

Federal Employer Identification Number
Our Federal EIN is 26-3596269.  This number may be required if you treat class fees as dependent child care.